The latest report of 2020-06-15 is at https://www.rangutan.eu/sars-cov-2-week-24/
I have changed the heading to my reports since not all SARS-CoV-2 cases lead to COVID-19 disease and not all infected people are tested.  Many "OAP" like me are dying with SARS-Cov-2 but not "from it"  but "with it". Please note, I am not a medical professional but simply a scientist. I have added some personal opinions though my opinions are usully ignored! See interesting links and references at the bottom of this page. RRG
Highlight: Exclusive at this website, active and TOTAL figures for the Europen Union.
Special Tables:  5G question (Image 15.8), obesity (15.9) and smokers (15.10).
There are some interesting video links and graphs at the bottom of this page.
Image 15.1 Overview of Columns and "Active" cases (Column CR)
Sheet sorted by "active" cases = cases minus deaths and minus recovered.
Most media refuse to report these "active" numbers. A third of cases are history!
On Saturday the USA surpases the EU when considering "active cases"!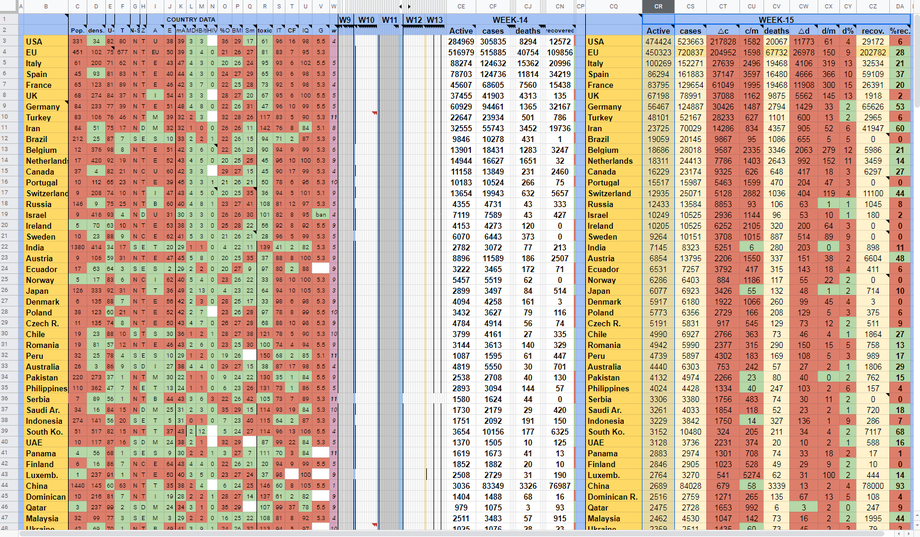 Image 15.1b&c Graph of Deducted Recoveries/Deaths
Selected countries (Brazil does not report recoveries) .... recoveries are estimated in Germany by RKI! Why?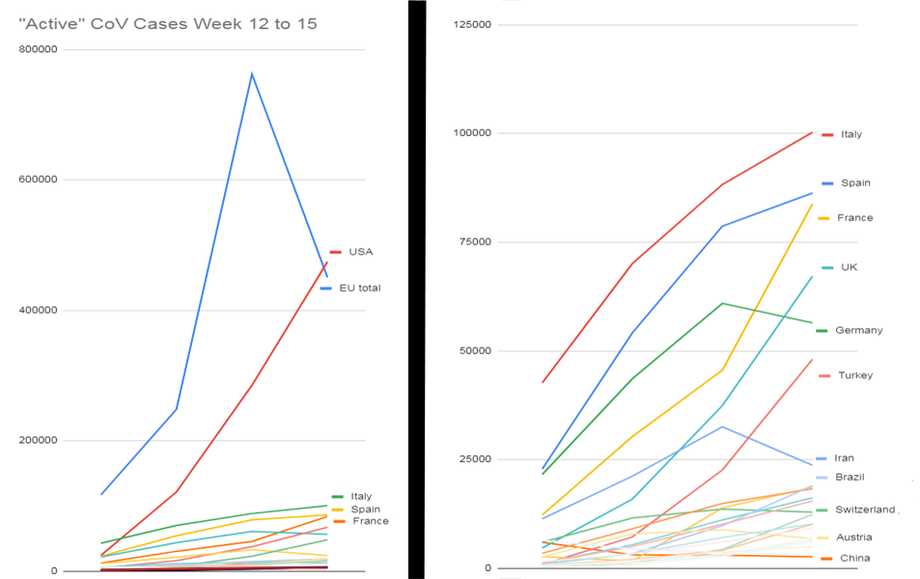 Images 15.2a&b   Number of new positive SARS-CoV-2 Cases Week 15 (Sorted by column CT)
Why do they call them "COVID-19" cases when most people have no or light symptoms?
                               15.2b  Most new cases                                                            15.2b Least cases this week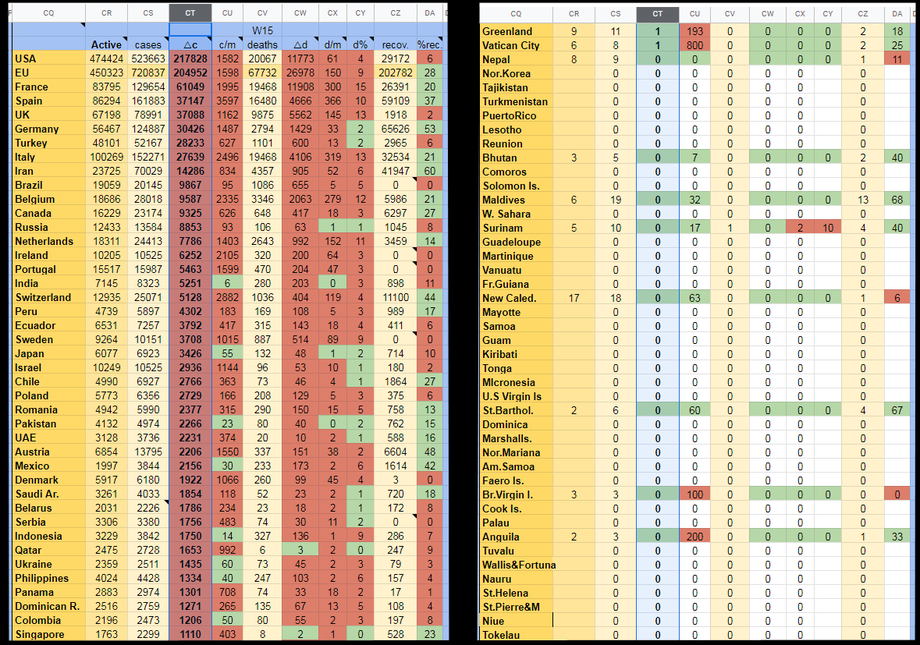 Images 15.3a&b Data Sorted by Cases per Million Citizens (Column CU)
This is a far better indicator than just total numbers without considering the size of a population.
Here, excluding countries without a single case.
For small communities, better to report: Jersey 99/1000, Guernsey 40/1000, San Marino 107/1000, Andorra 80/1000
                                                                                                                       Note India at under 6 per million cases!
                                Most cases per million                                                                Least cases per million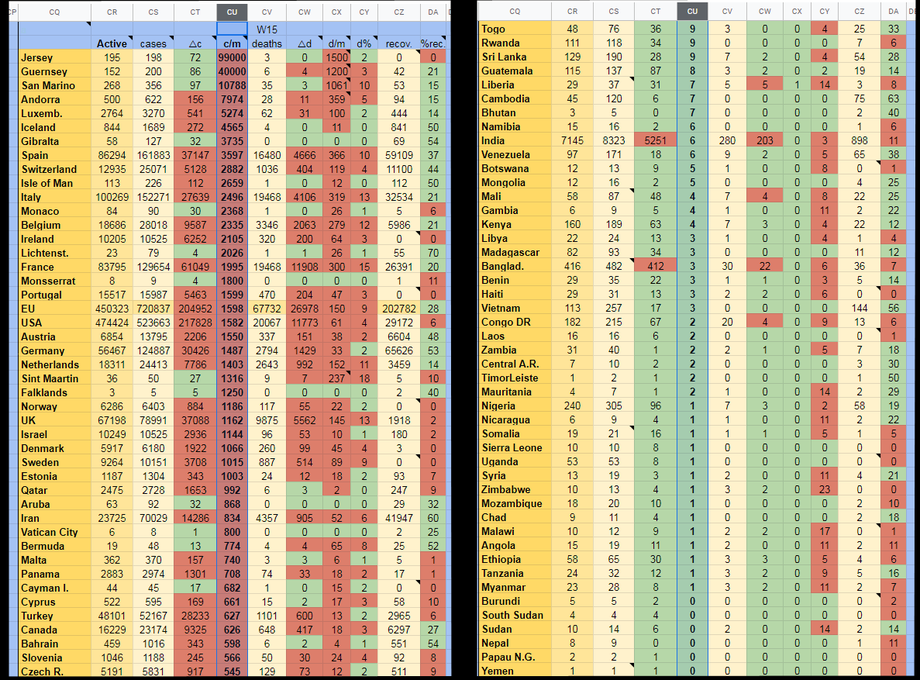 Images 15.4a&b  Sorted by New Deaths in Week 15 (Column CW)
The deaths peak about 15-20 days after the positive-test-cases peak. These could rise in new hotspots.
Controvercyl: some countries are claiming deaths "with" COVID-19. Expect lower death rates for other diseases!
Images exclude countries with no deaths this week eg. Iceland, Kuwait, Hong Kong...
                                  Most Deaths this week...                                                          ... few deaths this week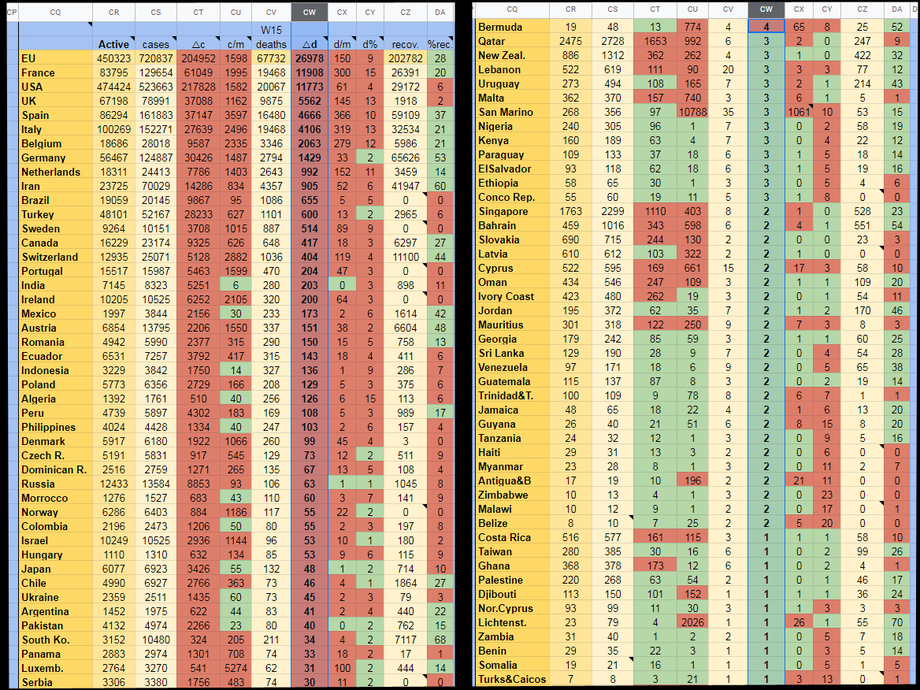 Images 15.5 a&b  Sorted by Deaths per Million Citizens (Column CX)
Again, this is a far better indicator than just total numbers without considering the size of a population.
                    Spain, Italy and France: large countries, hard hit.              China:  2/1000000    Russia:  1/1000000                                                        Most deaths per million                                                         Mid-field deaths per million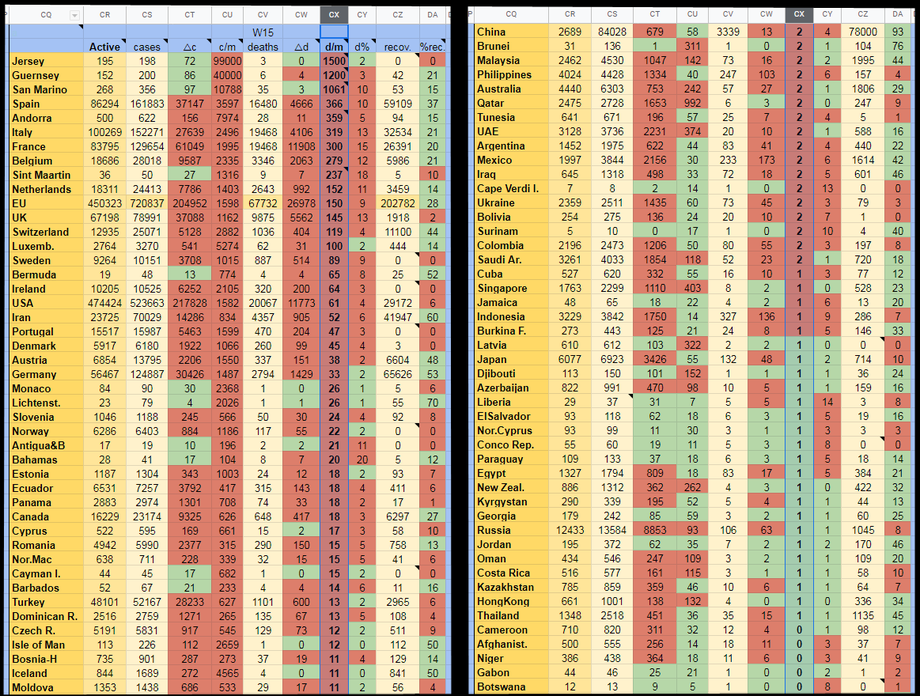 Images 15.6a&b   Sorted by Death Rates (Percentage) Column CY 
This may vary as some countries include deaths by other causes "with" COVID-19 
   Very sad: France, Italy, UK, Belgium, Netherlands, Spain                          Increadible: Israel & Russia
                             Highest death rates                                                                             Low death rates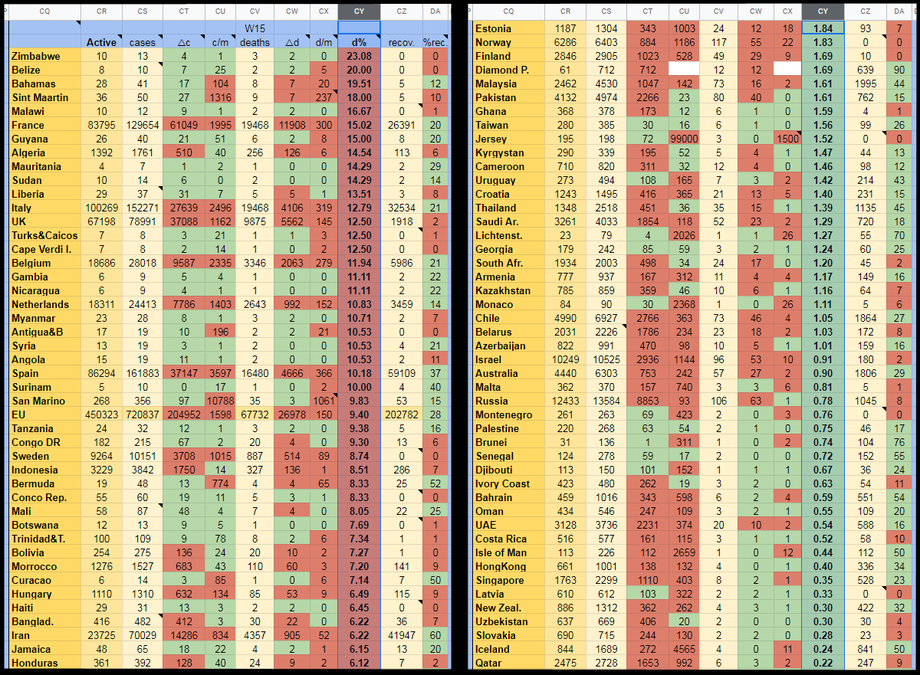 Images 15.7a&b   Recovery Percentages (Column DA)
Most media refuse to report this percentage. A third of cases are history!
Good news. These will increase with time and faster after the case-number peaks
Bad news. Korea is reporting some relapses!
                        Highest recovery percentage                                                Amoungt the lowest recovery percentage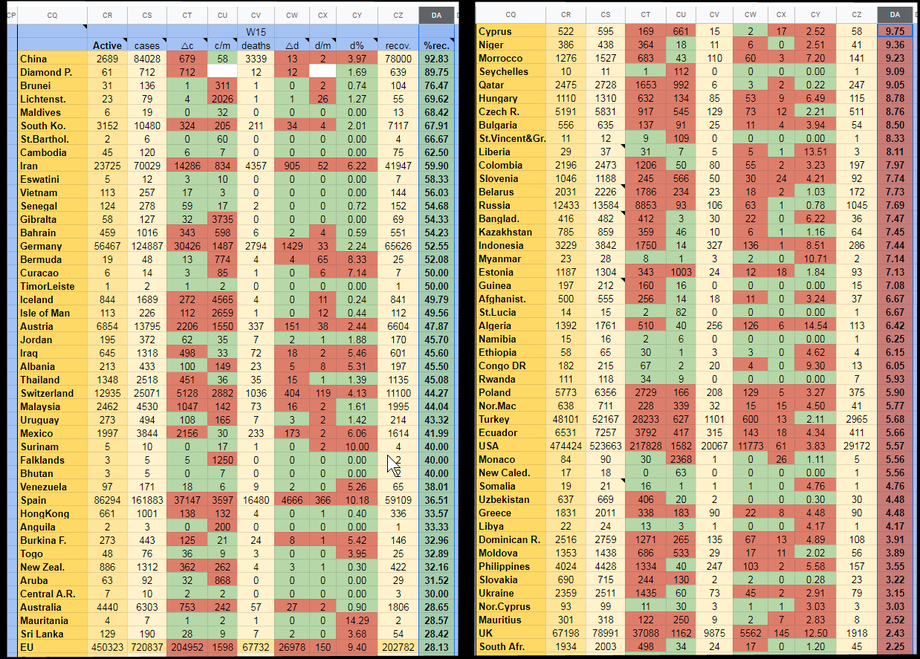 Image 15.8 The 5G Question (Column CS from column V)
Some are claiming that 5G is causing the pandemic. The cruiseship "Diamond Princess" has 5G.
I could not find better 5G data than that at trusted5G.com yet. If anyone has a list of 5G data, please let me have it.
Cases are high in tech developed countries but they also have other electrosmog like radar, WiFi, microwaves.
5.1 = testing   5.3 = trials  5.5 = commercial
       Israel has banned 5G but the have a lot of radar!                    Some very highly populated countries here
                              Countries using 5G                                                                   Countries testing or no 5G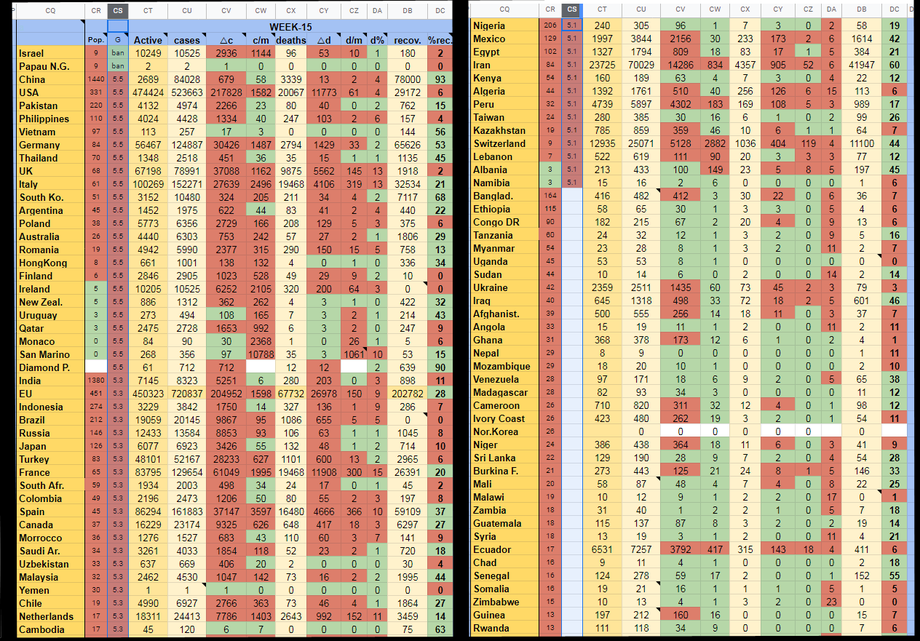 Image 15.9 Obesity (columns CR & CS from columns O & P)
Not funny, I am "adipositas" too!
"O%" is the pepercentage of obese citizens in each country. Average BMI here is for adult citizens.
Good news: There is not much difference in the death-rates between highly obese countries and thinner nations, yet the thinner nations have less tourists/passengers!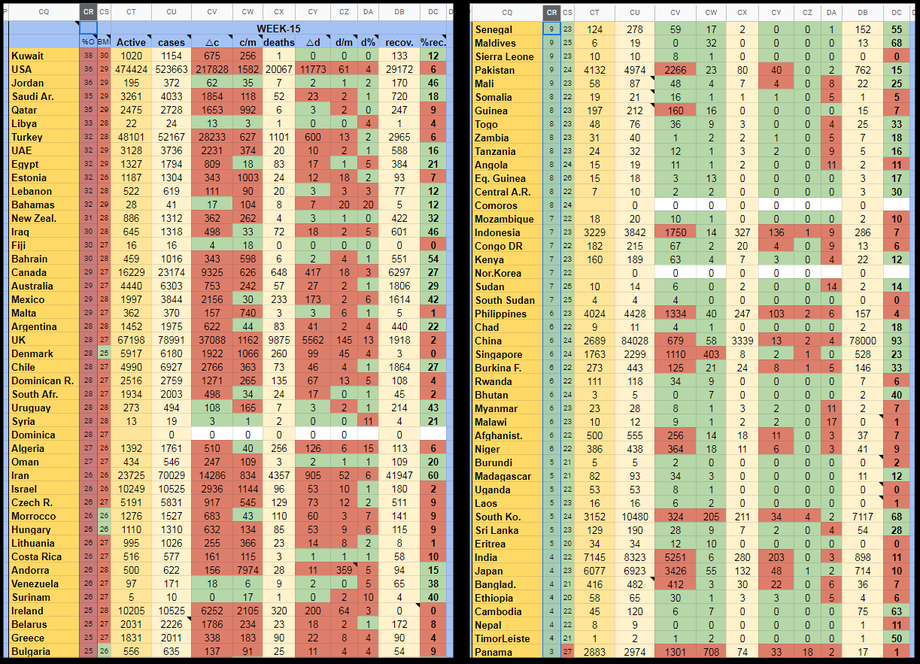 Image 15.10 Smoking (Column CR from column Q)
Smokers should obviously be in more danger. I am a smoker!
Column CR "Sm" is the percentage of citizens that smoke.
                          High smoker percentages                                                           Lowest smoker percentages
    29 countries show above average cases-per-million          Only 16 countries show above average cases per million
  and only 16 countries with above average death rates!             and 31 countries with above average death rates!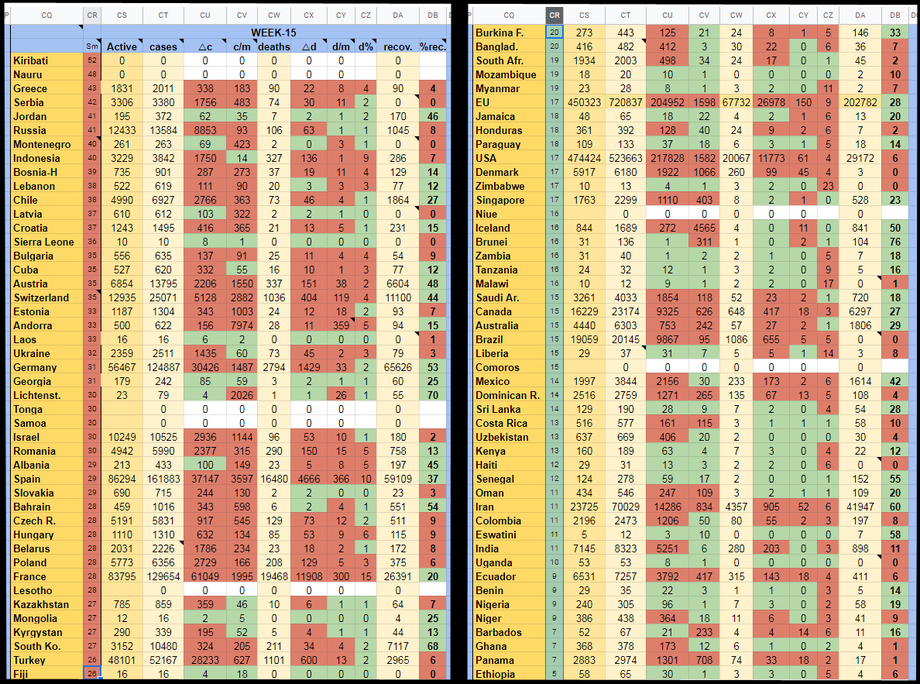 Image 15.11 The COVID Seasonal Question
Note that the hardest hit countries are between 30°N and  45°N. the light green temperate zone in the image.   The Southern hemisphere has only a handful of countries in that range: Uruguay 33°S,  Argentina 34°S, New Zealand 41°S, Tasmania 43°S, Lesotho  30°, perhaps southern parts of Chile, RSA and Australia included. Bill Gates suggests a bad outbreak in the southern hemisphere when they have winter (July-September) but he does not realize it is mostly ocean and the Antarctica!    [Image courtesy VectorsStock]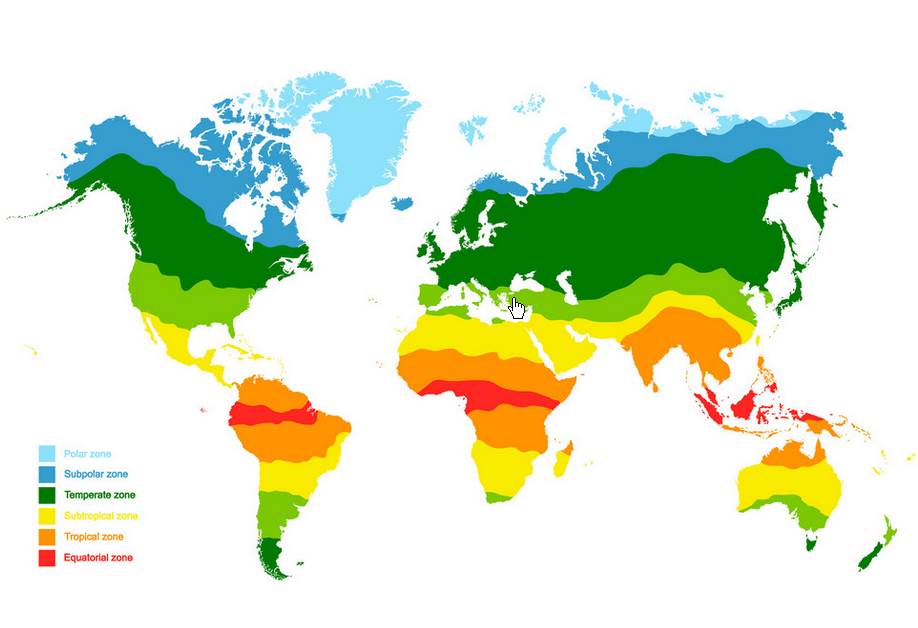 Image 15.12 Some Graphs by T-online. 
Red lines = new recorded infections           Blue-lines = recovered            Video: https://tinyurl.com/r5t9rvu (German)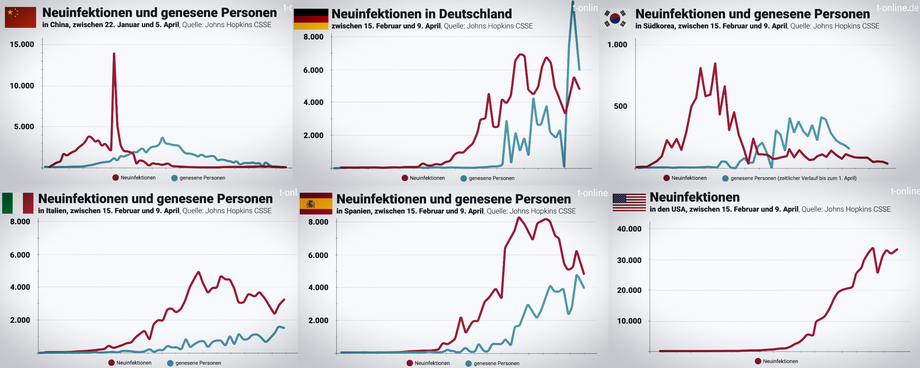 Image 15.13  Reports on Sunday-Mondays
Every Monday german press proudly annouce how low the new case numbers are!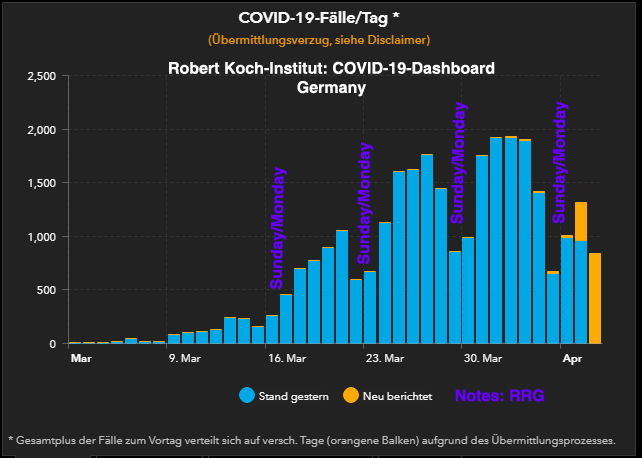 The full updated and complete downloadable interactive (sortable-by-column) spreadsheet of my data, for all 239 countries and dependancies containing 20,000+ values. Open-source, please use, download, share > https://docs.google.com/spreadsheets/d/1VfPUANZgXFF8SuRqcnGlRcu40vKC8CkC7fzsU3oJT_8/edit?usp=sharing 
I am human. Please let me know if you find errors here. Accuracy not 100% guaranteed, stats not always correct!
BNO statistics:  > https://bnonews.com/index.php/2020/02/the-latest-coronavirus-cases/
See also map showing infected town and cities by Avi Schiffman https://ncov2019.live/map
Some of the best videos I collected this week:
Controversial discussion: https://www.youtube.com/watch?v=5g4u1LJQ7_k shocking!
Presentation by Peerless Reads https://youtu.be/jEtf5MPa-iE Good news!
Interview with Dr. Shiva Ayadurai https://www.youtube.com/watch?v=xf-qv9o8nq8
Interview with Prof. Knut Wittkowski https://www.youtube.com/watch?v=lGC5sGdz4kg
Interview with Dr John Ioannidis https://www.youtube.com/watch?v=d6MZy-2fcBw    
Interview with Bill Gates https://www.youtube.com/watch?v=Xe8fIjxicoo
Wise words from Prof. Sucharit Bhakdi > https://www.youtube.com/watch?v=LsExPrHCHbw
On the lighter side, a song from RSA https://youtu.be/SCSHOCIOvWo
Disturbing https://youtu.be/KDV4Hk_cyp8
JoshWhoTV https://www.joshwhotv.com/vEmbed/18359 (Religious)
For the 36 countries and dependencies (76 million citizens) not infected yet: protect the elderly and sensitive by quarantining, tourists should wear the masks!
HELP NEEDED: does anyone have a link to a list that shows numbers of NEGATIVE tests?
Keep safe at home and remember to take vitamin-C suppliments and get a lot of vitamin-D (sunshine) to strengthen your immune system. More health tips at https://www.facebook.com/rangutanshealthtips/ 
and and meditation/prayer/faith at https://www.facebook.com/rangutansreligionsunite/
Celebrities tested positive: Boris Johnson, Angela Merkel, Prince Charles, Tom Hanks...
https://www.wikifame.org/wiki/Celebrities-Tested-Positive-for-Coronavirus-COVID-19
Fund me please! https://www.rangutan.eu/fund-me-please/
Last week's report is here. . It looks at pollution, I.Q., I.T. and median-age data.
My next update is on Sunday 2020-04-12 for calender-week 15 (hopefully) SARS-CoV-2 Week 15
It seems to be a huge hoax! After reading facts at https://swprs.org/a-swiss-doctor-on-covid-19/ I doubt I will continue statistics on this virus and now fear involuntary mass vaccination and even excuse for war! :-( RRG2020
Footnote: "If I get this virus I have only a 20% chance of survival? I belong to FOUR risk groups and live in the middle of a hotspot!"  Perhaps I had "it" in January when I was horribly down with flu for three weeks? RRG2020
Special thanks to: BNOnews, Statistika, CIA, Worldometer, Wikipedia, Internetworldstats, Numbeo...